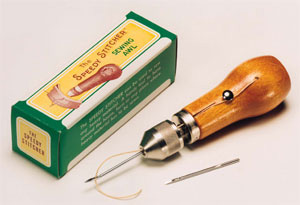 The Speedy Stitcher Sewing Awl has been an part of many homes around the world since 1909. It can be used to sew any heavy material you need. The Speedy Stitcher is an essential tool to have around the house, farm, dock or any place where heavy material need to be sewn.
Sewing Awl Kit - Speedy Stitcher

The Speedy Stitcher Sewing Awl is great for sewing when a sewing machine is not available or not feasible. This video shows using the Sewing Awl with the waxed twine included with the kit and a #8 straight needle.

Speedy Stitcher Sewing Awl Using Sewing Machine Thread

The Speedy Stitcher comes with waxed twine, but many Sailrite customers want to know if lighter sewing machine threads, like V-69, V-92, or V-138, can be used instead as lighter thread would look better than large twine in certain applications. See this demonstration on how to use the Speedy Stitcher Sewing Awl with Sewing Thread.