In our October 2011 newsletter, we gave our readers a multiple choice pop quiz question on layering clothing. The question asked, "Listed in order from inner to outer, what are the 3 layers used in a layering system?"
Wicking > Insulating > Wind/Water Protection (75%)
Insulating > Air Circulation > Moisture Evaporation (6%)
Moisture Absorbing > Insulating > Fashionable Cover (13%)
Insulating > Evaporation > Wind/Water Protection (6%)
The correct answer is Wicking, Insulating and Protecting. Would you like to learn more? Read on..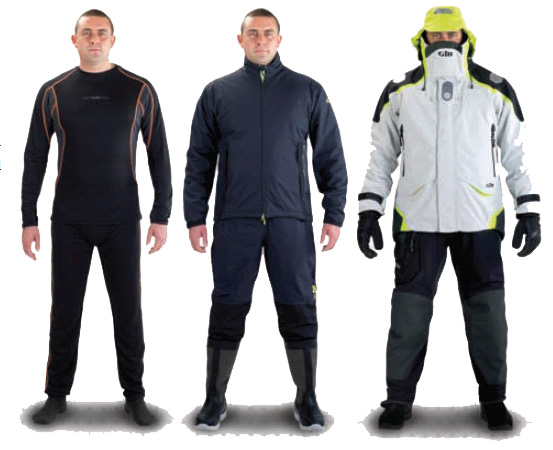 | | | |
| --- | --- | --- |
| BASE LAYER | MID LAYER | OUTER LAYER |
Boating in cold, wet weather? Have you spent a few minutes taking a closer look at what you're wearing?
Most boaters have a notion of how to properly layer their clothing, but few of us have actually taken the time to examine the concept and get it right. However, it's much simpler than you might think.
By simply using a combination of particular materials layered in a particular method, you can get the most bang out of your outdoor clothing, leaving you warm, dry and ready to conquer the seven seas!
ABOUT LAYERING
The Layering System employs theree distinct layers. Each have a specific purpose, and for maximum comfort and warmth one should use all three. However, in conditions that are less windy and wet (ie. cool but dry, or moments of exertion such as sailing downwind), the outer layer is optional.
Our clothing lines above are categorized as follows:
Base Layer
Mid Layer & Soft Shells
Outer Layer & Hard Shells
For more information about each layer, click on that particular category. A basic description of each is listed below:
Base Layer: By wearing a thermal underwear base layer, it can physically wick the moisture away from the body (polyester absorbs less than 1% of its own weight in moisture), keeping you dry and warm even after a burst of activity. This first layer or base layer is known as the wicking layer and its main purpose is to keep you dry next to the skin.
Mid Layer: This second layer is the insulating layer. This is the buffer between the warm skin and the cold air outside. It is important that this layer is highly breathable and any moisture can continue its journey into the great outdoors. Traditionally mid-layers have been fleece based garments with or without a windproof shell. More recently Gill has developed mid-layers using ultra compact synthetic insulation. The material is hydrophobic meaning water hating, it will not absorb water and can keep you warm even if wet.
Outer Layer: This is where the real protection against the elements takes place and it must be completely water and windproof. It should include a hood and collar system, protective flaps over the front zip and adjustable inner cuffs. In order to work most efficiently, the fabric should be breathable, thus allowing the moist air that's built up inside the garment to escape.
Thanks to Gill for providing the above information! To learn more about Gill, you can visit their site, or shop for Gill gear here at Pride Marine!
---
In our May 2011 newsletter we asked, "Which of the following is the coldest possible temperature that you would go pleasure boating in?" The results are in!
24°C/75°F or more (9%)
18°C/64°F (15%)
12°C/53°F (41%)
5°C/41°F (22%)
0°C/32°F or colder (13%)
Thanks for voting! And to the 13% who endure sub-zero temperatures... we applaud your bravery! Good luck with boating in the cold stuff. Just remember these tips (thanks to Sailnet and Sebago):
Wear your lifejacket and make sure it still fits (body shapes can change over the winter..)
Dress for the water, not the air. It might be beautiful outside, but the water is probably still very, very cold
Boat with a buddy!
Carry and test your VHF radio
Have a battle plan to deal with hypothermia
File a float plan so people know where you're going and if you're late
Don't push yourself! The conditions are less forgiving in the cold, and you might be out of practice. Use the spring season as a warm up, rather than a time to set records
Practice life saving techniques. Sure, we all have a plan to save an overboard crew member.. but have you ever tried? Try it with a fender first!
Take a good look at your gear to make sure it survived the winter. Make sure everything works, and take care of corrosion, sticky parts. Don't find out about gear failure when you actually need it.
Educate yourself about more cold weather - how to layer clothing, what other dangers exist and how to deal with them.
Bon Voyage!