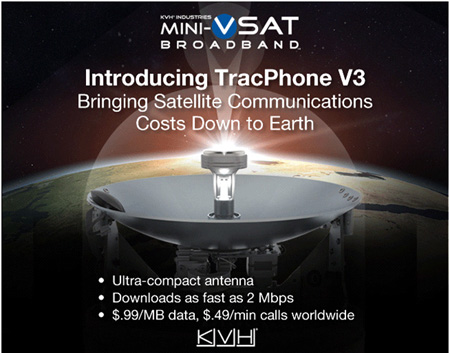 Take a video tour of the KVH TracPhone® V3: http://www.kvh.com/v3
KVH Makes SATCOM Practical for Small Boats with New TracPhone V3.
- World's Smallest Maritime VSAT System
- Affordable broadband for mariners on vessels as small as 30 feet!
Product highlights:
World's smallest maritime VSAT system at just 25 lbs. (11 kg) with a 14.5" (37 cm) antenna
Data speeds of up to 2 Mbps from shore to ship and 128 Kbps from ship to shore on KVH's global mini-VSAT Broadband SM network
Simplest airtime plan available: just $0.99 per MB for data and $0.49 per minute worldwide for incoming and outgoing phone calls and faxes
Call Pride Marine for pricing and availability!

About VSAT:

A Very Small Aperture Terminal (VSAT), is a two-way satellite ground station or a stabilized maritime VSAT antenna with a dish antenna that is smaller than 3 meters. The majority of VSAT antennas range from 75 cm to 1.2 m. Data rates typically range from 56 Kbit/s up to 4 Mbit/s. VSATs access satellites in geosynchronous orbit to relay data from small remote earth stations (terminals) to other terminals (in mesh configurations) or master earth station "hubs" (in star configurations).

Maritime VSAT is the use of satellite communication through a VSAT terminal on a ship at sea. Since a ship at sea moves with the water the antenna needs to be stabilized with reference to the horizon and True North, so that the antenna is constantly pointing at the satellite it uses to transmit and receive signals.