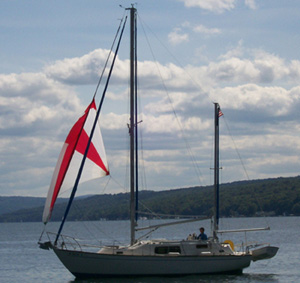 The NEW SPINNAKER FURLER now being offered by CDI finally delivers to the sailboat owner a reasonably priced system for handling a Cruising Spinnaker from the cockpit.
The CDI SPINNAKER FURLER is designed for use with most existing Asymmetrical Spinnakers, Cruising Spinnakers, Gennakers, and Code O sails.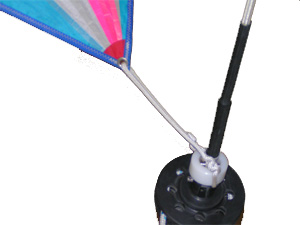 The new CDI Spinnaker Furler is so innovative that it has been granted a U.S. Patent for the design.
A luff rope is attached between the spool and the top swivel. The spinnaker is wrapped around the luff rope much as a normal jib is furled around a rigid extrusion. The rope luff allows the sail to be lowered when not in use, packed into a normal sail bag, and stored below deck until wanted again.
The SPINNAKER FURLER can also be stored in place on the bow of the boat if covered with a protective sock, ready to be unfurled at a moments notice.
The new SPINNAKER FURLER is raised with the existing ship's spinnaker halyard.
The SPINNAKER FURLER spool can be mounted on the bow rail on small sailboats (usually under 30 ft), on a bow sprit or on an anchor roller on larger boats.
The new SPINNAKER FURLER, once raised by the spinnaker halyard, can be deployed or furled from the safety of the cockpit. A sailor single-handing, or sailing with a small or inexperienced crew can finally use an Asymmetric Spinnaker safely. There is no need to go up onto the bow of the boat to furl the spinnaker.