Lewmar Portlights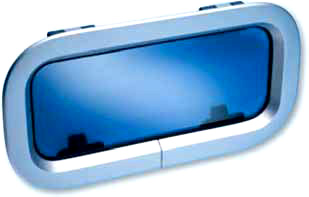 Lewmar Standard Portlight
The Standard Portlight provides a complete family look with the Atlantic Portlights. The Standard Portlight is stylish, has clear visibility, is easy to use, simple to install and competitively priced.
Features
The Standard Portlight is fitted to thousands of boats worldwide
Handles and hinges are fi tted to the edge of the lens to allow clear visibility and are unable to vibrate open when in the closed position
Single frame join for security and styling
Quick action handles
ABS plastic inside trim can be cut to length
Corrosion free friction hinges hold the window open
---
Beckson Portlights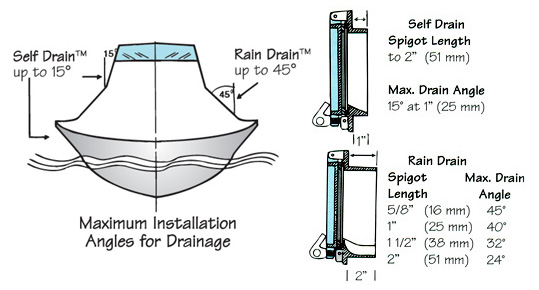 Beckson's Self-Drain ports should be mounted where the hull is no more than 15 degrees from center.
Beckson's Rain Drain ports can be mounted on vertical surfaces with no more than 45 degrees from center.
This chart shows the draining power of your Beckson port in both Self Drain and Rain Drain ports.
Both styles come in standard 1" or 2" spigot lengths. The spigot is the integral part of the frame which passes through the cabin wall. Spigots should be trimmed flush after installation for best drainage.
It is generally best to mount the largest port for the available mounting location for new installations. A larger port provides more light and better ventilation
The slope of the mounting location will indicate the type of port required, NEWPORT™ SELF DRAIN or NEWPORT™ RAIN DRAIN
Estimate the hull or cabin wall thickness at each mounting location as accurately as possible. Cabin wall thickness determines required port spigot length. Both styles come in standard 1" or 2" spigot lengths.
---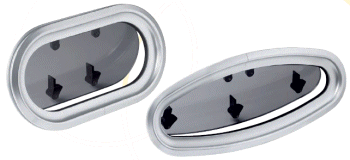 Vetus PM & PX Series Aluminum Portholes
The portholes type PM and PX are supplied with hand-polished and anodized aluminum frames and "smoke" colored acrylic of 3/8" thickness.
These Vetus portholes are not screwed, but clamped. Consequently, there is no need to drill holes.