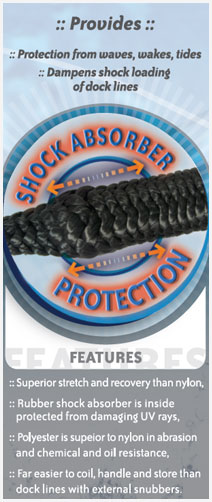 Shock Absorbing Polyester Dock Lines
Synergy Marine's dock lines offer the very best in protection available for securing your boat to docks, pilings and moorings. The shock absorbing feature is unique and far more functional than any other solution currently available on the market.
All boats while moored are susceptible to damaging wakes from passing boats, waves, current and tides. Finally a product is available to protect your boat with a simple and cost effective alternative to nylon dock lines and springs or external snubbers.
Synergy has coupled the shock absorbing abilities of a multi filament rubber insert with the superior performance properties of braided polyester in an effective and innovative dock line for recreational boats. The polyester remains soft and easy to tie and coil under all circumstances, while providing protection of the revolutionary rubber shock absorber inside.
The rubber shock absorber insert is completely protected from damaging UV rays inside the double 16/8 braid polyester rope. The Jet Black polyester rope is made from high tenacity multifilament yarns that are spin dyed. Each dock line features a hand-spliced 30cm eye on one end and the bitter end is whipped and heat sealed.
The shock absorber dock lines are available various popular lengths and in 4 diameters:
•12mm - 1/2"
•15mm - 5/8"
•18mm - 3/4"
•26mm - 1"
Properties of Synergy's Polyester line:
All Synergy Marine Dock lines are made of high tenacity multifilament polyester. While polyester is the most popular general purpose rope in the boating industry, you will find that there are several types of polyester on the market today - monofilament, split filament, multifilament. The main reasons for choosing high tenacity Polyester multifilament is that it is stronger and more durable than other types of polyester lines.
Synergy's high tenacity polyester has very high strength, and because of the low stretch nature of such fibers, these lines do not shrink when wet. They also have excellent resistance to UV, abrasion, acids, chemicals, oil and will not rot.