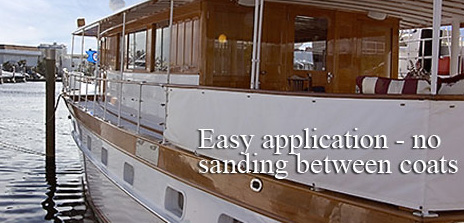 Fast, Easy Application
No sanding between coats
1 hour or so between coats
Molecular cross-linking insures a perfect bond between coats, and eliminates hours of sanding labor. Just think- finish your project in one or two days, not 2 to 4 weeks!
Classic Appearance
Unlike many "low maintenance" coating products, there's no sacrifice in appearance for the sake of performance. Traditional Amber Urethane is completely transparent, and looks exactly like varnish.
Unmatched Durability, Very Low Maintenance
Designed to hold up on unshaded, horizontal surfaces where other marine products fail prematurely
10X more UV resistance than ordinary varnish
100X more abrasion resistance than ordinary varnish
Not affected by gasoline, diesel fuel or cleaning chemicals
Traditional Amber Urethane has the highest level of UV resistance that is possible to achieve in a transparent coating. The gloss retention is outstanding, and it will not become brittle, crack or peel. It's abrasion resistance is better than any other coating.
Traditional Amber Urethane will look good for 1 to 2 years without maintenance in the tropics, and up to 4 years in temperate latitudes. When it's time for maintenance, all that's needed is to lightly sand, apply a topcoat, and enjoy the results for a few more years.
Very Cost Effective
Bristol Finish Traditional Amber Urethane will save you time and money compared to other coatings. The fast and easy application is only the first savings. With very low maintenance needed, it will pay for itself year after year.