Topper Taz Race
A lightweight, car-toppable dinghy suitable for up to 150kg of crew - perfect for solo sailors and beginners, as well as parent and young child. Dacron mainsail and jib. Incredibly tough. Beach rental favourite! Simple to rig, simple to sail.
Price
Product Code
Stock
Qty.
Taz Race
$3,099.99
Topper Taz Race
Taz Race X
$3,099.99
Topper Taz Race X
CUSTOM: Topper_Taz_Race.cfm
Length: 9.67 feet or 2.95m
Beam: 3.93 feet or 1.20m
Hull Weight: 88.18 pounds or 40kg
Canadian Sailing Schools currently using the Taz include: Brockville Yacht Club, Boucherville Yacht Club, Camp Oconto, Sarnia Yacht Club
Taz Topaz Race: Includes Dacron sails.
Taz Topaz Race X: Includes Mylar sails - for a full list of features, scroll to the bottom of this page!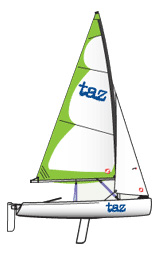 Topaz TAZ is Super Simple! It's obvious why thousands choose the Topaz TAZ to introduce newcomers to the sport of sailing. She is simple, fun and totally cool. At just 40kg, TAZ is easy to handle afloat and ashore, even for the smallest child. Total novice sailors are instantly at ease in the TAZ. She inspires confidence and within literally minutes, newcomers have already mastered the basics and are feeling comfortable and at home on the water.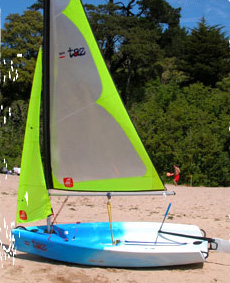 Topaz TAZ is Safe, Stable and Spacious! The TAZ hull offers outstanding stability and masses of built in buoyancy ensures that up to two sailors can enjoy perfect handling without the boat taking on water over the transom or the bow nose-diving (unlike some other designs!) The TAZ feels far bigger than you might imagine. With its uncluttered and curvaceous self draining cockpit plus a nice high boom the TAZ is extremely roomy and comfortable for an adult and a child or two - three small children.
Topaz TAZ has 2 sails for up to 2 crew! The TAZ has a simple main and jib for two up sailing or can be sailed singlehanded. The deceptively spacious cockpit area has just as much space and capacity as more expensive models. A child as light as 30kgs can handle the TAZ. On the other hand, the maximum capacity is up to 150kgs allowing an adult an child to sail together comfortably.
Topaz is beautifully built and exceptionally tough! Topper International's unparalleled expertise in thermoplastics has meant that the very latest rapid advances in material technology have been fully harnessed to produce an incredibly strong, lightweight, stiff and durable hull. The Metalicene TRILAM hull moulding is a three layer sandwich construction with a tough outer skin to give exceptional impact strength and because of the foam core, the whole construction is lightweight and has a positive buoyancy. The Topaz-technique is the envy of the industry.
Topaz is the best value Beginners Sailboat ever! "Possibly the most affordable sail trainer ever," says a YACHTS & YACHTING Independent Test review. The Topaz utilises the latest thermoplastic production techniques resulting in a super tough low maintenance hull at a fraction of the cost of GRP. Therefore, the TAZ retails at significantly less than you might expect. TAZ is now sailed in a rapidly growing number of sailing schools all around the world. The feedback from schools and families has been fantastic. They all recognise that the fun-factor of the boat is maximised because it is tailor made for youngsters in terms of size, weight and rig option. And they love the value for money the TAZ represents.
Features:
Simple. Even the smallest new sailor feels safe, comfortable and confident in the superb new TAZ. Her ultra-modern 'Topaz-like' good looks will instantly ignite interest. Once on the water, the superbly responsive TAZ comes into her own to delight and win over yet another new convert to the sport of sailing.
Spacious Self Draining Cockpit. The TAZ feels much bigger aboard than she really is. The 'Topaz-Style' self draining cockpit is spacious, uncluttered and comfortable. There is more than enough room for teacher and pupil to sail together without feeling cramped or restricted. An extra high boom gives an even greater feeling of space and allows the centreboard to be fitted before you go sailing.
Uniquely Rugged and Resilient Hull Construction. The precision moulded TRILAM 3-ply sandwich construction is unique to Topper - as pioneered by the Topaz System - and guarantees that no other rota moulded sailboats come even close to the Taz and Topaz in terms of strength, rigidity and durability.
Carry Handles. 'Topaz-Style' Carry Handles are fitted on bow and stern for easy launching and retrieval.
Inspection Hatches. Stowage pouches fit into inspection hatches for storing keys, cold drinks etc.
Proven Lifting Rudder System. The easy to lift rudder system - as used on the Topper - keeps the rugged moulded blade in perfect condition. This sturdy rudder fitting is amongst the best on any production model sailboat.
Easy and quick to rig. The simple 'Oppie-style' sprit rig and simple centre mainsheet could not be easier to rig. Within a matter of minutes you'll be on the water. The sleeved luff and loose footed sail eliminates eyelets and lacing, making rigging even quicker and easier.
Easily cartoppable. The lightweight Taz sailboat is easily cartoppable. Getting the Taz from storage to the water and back is a breeze.
Hassle-free maintenance. The hi-tech roto-moulded polyethylene hull is unsinkable and far stronger and longer lasting than other boats on the market. The hull is virtually indestructible, even against the harshest knocks and scrapes inflicted by novices. But, in the unlikely need of a repair, the workability of polyethylene makes any repairs effortless. Tried and tested Topper Topaz fittings and fixtures ensure that failures are kept to a minimum.
Fast track progression. The TAZ is the perfect introduction to Topper sailing. The renowned Topper Junior Racing Class is well established and recognised by the RYA and ISAF. There is no better Topper apprenticeship than the TAZ.
For a more radical ride, consider upgrading to the Topper Topaz Race X:
"Seriously fast sailing for the club sailor right through to professional sailor. The Topaz Race X rig takes the boat to yet another level only found in boats costing twice the retail price". YACHTS & YACHTING
Features of the Race X:
High performance one or two crew boat.
An exciting option for club sailors through to the professionals.
Fully battened Mylar mainsail, big race jib and full-on 9m2 asymmetric gennaker for the ultimate adrenalin rush.
Simple and efficient Asymmetric System. The single-line halyard is easy to operate for helm or crew.
All the performance of a high-end racer for half the price.
Particularly roomy self-draining cockpit.
Tried and tested resilient Topper foils.
TRILAM technology, unique to Topper gives unrivalled strength to weight ratio and uniformity, buoyancy, stiffness and durability.
A favourite with sailing holiday companies who want to offer high performance sailing in a maintenance free boat.
Three Year Hull Warranty, One Year Parts Warranty. The warranty does not cover breakages caused by misuse, owner errors or omissions, commercial or rental use. Transportation costs to repair facilty in Barrie, Ontario is the responsibility of the boat owner.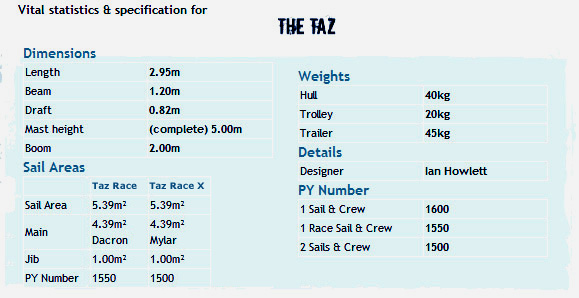 ---